Play 8 Ball Pool
8 Ball Winning Strategies. Give Yourself that needed edge on Your competition.
We at Garrett Specialty Services try to help you find pool and billiard books, articles and products designed to improve your game and add to your game room accommodations and leisure fun. This book will help you play 8 ball pool at a higher level than ever before.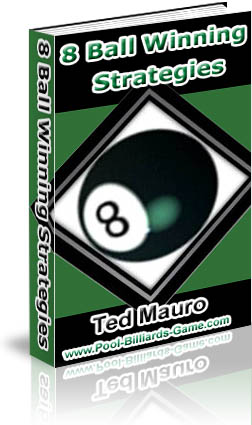 8 Ball Winning Strategies is a book designed to help you study the art of playing 8 ball pool, online and off line training.
Bring Your level of Play to the next level on the Double.
Plan Your Run Out Pattern Immediately After the Break Shot.
Master the Art of Defense and Keep Control of the Game.
Do You Ever Run all Your Balls and then Miss the 8 Ball?
Discover the Eight Ball Secrets that will give you the edge on your competition Here.
(8 Ball Winning Strategies is an ebook in pdf format. You will need Adobe reader on your computer to read it and access the web pages and videos which it links to. Most Computers have this software already. If you do not, there is a link on the download page where you can get it Free.)



Check some of the contents of this book which will take your 8 Ball Game to A Way Higher Level of Play.
1.Introduction
2.Start with the Mind
3.Fundamentals of Pool / Billiards
4.Breaking the Rack
5.Racking the Rack
6.Find Your Pattern
7.Plan Your Out
8.Be Smart from the Start
9.If you do the Chores, Finish the Job
10.Sometimes you should miss
11.Leave some balls on the Table
12.Only go for the Out when You Have the Out
13.You missed the Break Out Shot, Now What?
14.Break it out and or Play a tough Safety.
15.Get the Break Out and Complete the Run Out.
16.Plan Your Work and Work Your Plan
17.Keep an Eye on Your Opponent and surroundings
18.Know which Version of the Rules You're Playing.
19.The Various differences in 8 Ball Rules.
20.Ball in Hand or Bar Rules?
21.Safeties, When to Lay Down, When To Run Out.
22.Get Safe or Get Out
23.The Money Ball (Game Ball) Eliminate the Choke
[cincopa AYIA-8KJFUIm]
Get all the details on the subjects above with Video Examples to make it Crystal Clear. Click on the Box to Learn More Now.