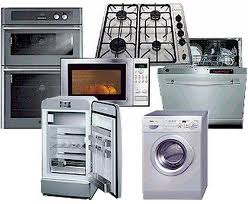 Appliance Movers Fort Wayne, Washer & Dryer Installation/Disconnect, Microwaves, Icemakers
Garrett Specialty Services  provides complete and secure services for all your appliance moves. From safe and accurate disconnect at the time of your move to secure and inclusive installation at your destination site GSS is the only professional and reliable third party moving service for all your moving and relocation needs. For Appliance Movers Fort Wayne call GSS today.

At GSS we pack and service the following appliances but our services are not limited strictly to these appliance services: Click on the link below to find out more for each appliance service.

When it comes to appliances, AJ Madison has it all—extensive product knowledge, attentive service, huge selection and superior savings. As an authorized dealer, AJ Madison, provides an extensive selection of today's top brands like Electrolux, Frigidaire, Whirlpool, Miele, LG, Fisher & Paykel, Bluestar, Bosch, GE and many others. AJMadison.com is a treasure trove of appliance information with more than 20,000 products in an easy-to-navigate interface. Constantly updated with the latest product information, including detailed images, money-saving rebates, accessories and more, AJMadison.com is the one-stop resource for everything customers need to know while researching and purchasing home appliances.