Disconnect Ice Maker Fort Wayne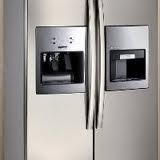 ORIGIN: GSS will verify working condition of unit. After locating the shut-off valve for the water line, we remove the ¼-inch line from the source and then securely cap the source. We take every precaution to protect the customers floor prior to any movement of the unit for line access. Line is then removed from the back of the unit. The  pump solenoid is removed, labeled, wrapped and placed in refrigerator. If the water filter is present we will drain it. Before departure we make one final check of water source for any leaking or drips.
DESTINATION: After confirmation of the correct location GSS will take all precaution to cover the floor before reconnection occurs. The house line is closely checked for any potential problems. All connections are taped and double checked for leaks and the filter is inspected for any deficiencies. GSS also inspects all solenoid connections. We then monitor the icemaker's functionality and advise customer to dispose of the first load of ice.
If you would like a professional movers quote or a third party service quote for this service, Contact Us!
When it comes to appliances, AJ Madison has it all—extensive product knowledge, attentive service, huge selection and superior savings. As an authorized dealer, AJ Madison, provides an extensive selection of today's top brands like Electrolux, Frigidaire, Whirlpool, Miele, LG, Fisher & Paykel, Bluestar, Bosch, GE and many others. AJMadison.com is a treasure trove of appliance information with more than 20,000 products in an easy-to-navigate interface. Constantly updated with the latest product information, including detailed images, money-saving rebates, accessories and more, AJMadison.com is the one-stop resource for everything customers need to know while researching and purchasing home appliances.